Pel Tan Roly Challenge Trophy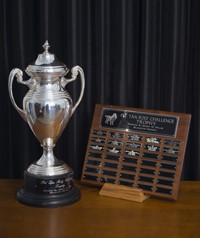 Description
From Rochester Washington Jeff Miller owns and operates Blackriver Kennels and has trained and handled numerous Field Champions both in Canada and the USA, two of which are Canadian National Field Trial Champions. His most beloved dog Roly won two Nationals, Placed 2nd at a National, was a Canadian Field Trial Champion, U.S. Open All Age Field Trial Champion as well as US Amateur Field Trial Champion. He also sired Canadian National Champion, CNFC Blackriver's Keno and was the grandfather of two U.S Open National Champions, NFC Canis Serius and NFC G&D's Edward. As well he has been inducted into the Gundog Hall of Fame.

Roly is truly a dog truly worth recognition.
Criteria
Presented to the winning dog at the Canadian National Open All Age field Trial Championship.
Past Winners
| Year | Dog | Owner/Handler |
| --- | --- | --- |
| 2015 | Sunrise Sally II | Rick Walker/Gary Wilson |
| 2014 | Dawsonlee Faithful | Jeff Miller/Jeff Miller |
| 2013 | Blackriver's Tanner | Jeff Miller/Jeff Miller |
| 2012 | Spurvalley's Bushbuster | Greg Royer/Greg Royer |
| 2011 | Lady Caramel | Tanya McCaffrey/Bill McCaffrey |
| 2010 | Warrener's Wilson's Plover | Alan & Sue Wilson/Paul McGagh |
| 2009 | Prairie Meadows Rise 'N Shout | Craig Foss/Marty Knibbs |
| 2008 | Cedar Boughs Slipshot | Bill Willett/Marty Knibbs |
| 2007 | O'Gallaher's Bryg | Robert Montler/Marty Knibbs |
| 2006 | Gre-Shar Big Boss Man | Greg Mitchell/Greg Mitchell |
| 2005 | Warrener's California Quail | Paul McGagh/Paul McGagh |
| 2004 | Rolling Oaks Sumday Bud | Harold & Heather Wiltse/Harold Wiltse |
| 2003 | Samantha's Royal Flush | Leaman Ames/Ben Martin |